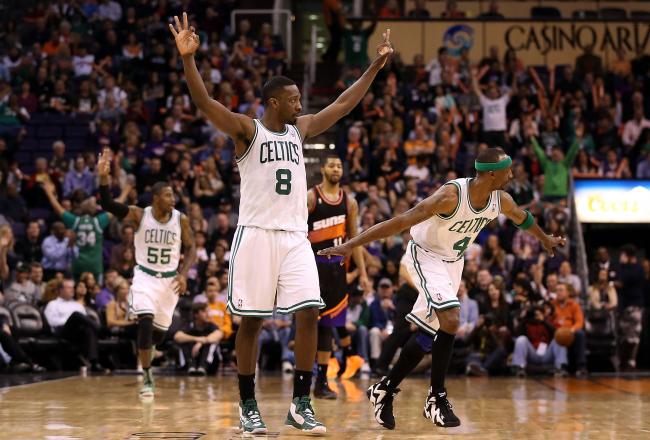 Jeff Green has started one game this year…he racked up 31 pts, 4 asts, 7 rebs, 5 blks, and 2 stls. The Celtics won handily at Phoenix 113-88. Since his lone start, Green is averaging 8.5 pts a game.  Green clearly does not like being a bench player, scratch that, Green doesn't like not having a role in the Boston Celtics offense.  Now one game does not make a good sample size, but Jeff Green has been inconsistent this year beceause his role isn't defined. His role was defined against the Suns, scorer. I'm going to make my case to you guys why Green should be a starter and why the Celtics will benefit if he does start and become a major part in this offense:
Green isn't part of the Green –
Jeff Green in the Celtics offense has no plays ran for him except for the occasional isolation on the strong side of the ball.  He also gets a few iso's when he has an advantage whether it's size or speed, but that happens about 3-4 times a game.  Other than that, Green gets the rest of his points off of fastbreak buckets and hustle plays.  When Jeff Green is averaging over 12 pts per game and taking over 9 shots a game, the Celtics are winning, when he averages less that, the Celtics are losing.  What does all that tell us? Green needs to be apart of the Celtics offense to get W's!
Green is apart of our future –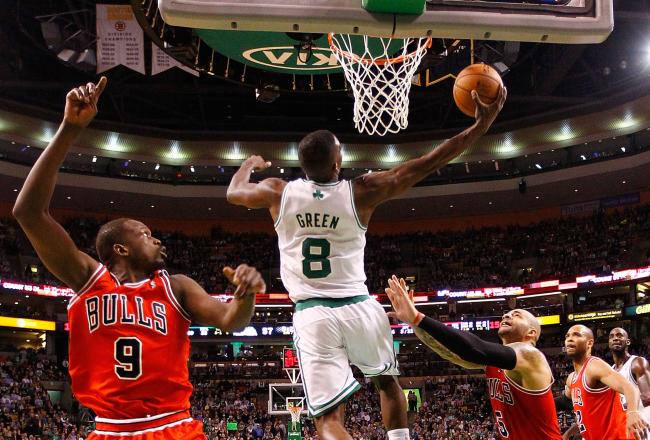 Green is making a lot of Green this year, at $8 million dollars, and he is here in Boston for four more years! Why relegate him to a bench role if your paying him that much, and isn't he expected to be a big part of our future? I say bring Courtney Lee back to the bench and start Bradley at point, Paul at the 2-guard, Green at the three, Bass at the four, and KG at the five.  This adds size at every postion, but doesn't take away from the shooting space the Celtics had with Lee in the lineup.  Also, Paul can use his size and strength against the smaller shooting guards in the league, and Green can guard the opposing team's best player at SF (this will come in handy against the Heat and the Knicks).
All I'm saying is that Doc doesn't really have anything to lose to just try this lineup.  The myriad of injuries combined with the slow play after the All-Star break, tells me we need to take some risk if we are going to get anywhere in the playoffs. Let me know if you agree or disagree with what I had to say!
#CelticsNation
Follow me @ https://twitter.com/steviechillz
The following two tabs change content below.
As a lifetime New England sports fan, Hunter was determined in October of 2005 to finally start using that passion and determination to create the site now known as Celtics 24/7. Formerly known as Celtics Pride, Celtics 24/7 has become one of the most well-respected and followed Celtics websites. Our motto "For Fans, By Fans" rings entirely true as we've built and grown a community of passionate and enthusiastic Celtics fans. It all starts with you–the fans, and I appreciate every single person who supports us on our journey to the top.
Latest posts by Hunter Thomas (see all)