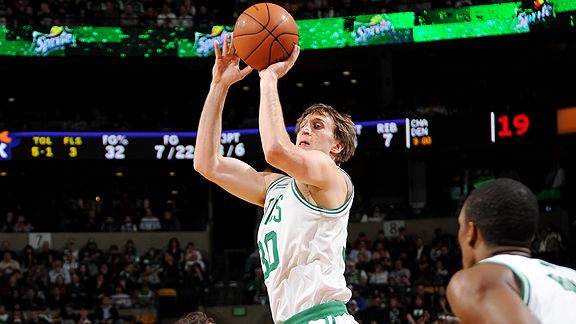 The NBA trade deadline came and went last Thursday and while it was an event-filled day, teams continue to make moves via the waiver-wire after it.
One of those teams is the Boston Celtics, who had a win over the Miami Heat off the court and they hope that it will help them win on it if the two squads happen to meet up later on in the season.
Those following the NBA props at BetUs saw the Heat favored to land the services of power forward Troy Murphy, who had been traded to Golden State from New Jersey at the deadline. The Warriors told Murphy to stay at home as they were going to negotiate a buyout and shortly after the two sides agreed, Murphy was free to sign with anyone.
Most pundits figured that Murphy would land in Miami as the team has a dire need for frontcourt help and he'd likely see more action there. But the Celtics swooped in for the pickup and added the big man to their front lines.
The Celtics have a lot of bodies inside – even after the trade of Kendrick Perkins – but Murphy still adds a valuable commodity. He's a big man who can shoot threes and that's some the Celtics did not have before.
Playing for Indiana Pacers last season, Murphy led the NBA in three-point attempts with 175. So far this season, the Celtics big men have scored on just 3-of-24 from the three-point arc.
Clearly, Murphy will provide a boost.
The best part for Boston is that they won't have to face him. Any time a team can strengthen their squad while potentially weakening their opponent, it's a double bonus. Miami is still thin in the frontcourt while the Celtics now have an embarrassment of riches and versatility. In a seven game series in the postseason, that could very much be the difference.
The following two tabs change content below.
As a lifetime New England sports fan, Hunter was determined in October of 2005 to finally start using that passion and determination to create the site now known as Celtics 24/7. Formerly known as Celtics Pride, Celtics 24/7 has become one of the most well-respected and followed Celtics websites. Our motto "For Fans, By Fans" rings entirely true as we've built and grown a community of passionate and enthusiastic Celtics fans. It all starts with you–the fans, and I appreciate every single person who supports us on our journey to the top.
Latest posts by Hunter Thomas (see all)